---
| | | |
| --- | --- | --- |
| July - September, 2020 | October 5-12, 2020 | November 9-29, 2020 |
Impact of COVID-19 on Upcoming National Highway Safety Campaigns
NHTSA rescheduled the April 2020 Distracted Driving Month Campaign to October 5-12, 2020, and rescheduled its May 2020 National Click It Or Ticket (CIOT) mobilization to November 9-29, 2020 (media buy date and mobilization dates forthcoming), which we understand both occur after the current fiscal year.
Additionally, the Heatstroke Awareness Campaign previously scheduled to run from May to September will now run from July to September. States may choose to conduct their mobilizations at the originally scheduled dates or as rescheduled by NHTSA depending on their own circumstances and needs. NHTSA soon will provide more information about the impacts of these new dates, as well as guidance about the statutory requirement to participate in national mobilizations.
Click It or Ticket in Virginia
Virginia will participate in the rescheduled National Mobilization in November.
The originally planned statewide high-visibility enforcement campaign scheduled for June 22 – July 5 has been CANCELED.

---
Virginia Launches 19th Annual Checkpoint Strikeforce Campaign to Curb Impaired Driving
Governor Northam highlights increased enforcement patrols, reminds Virginians to travel safely
RICHMOND—Governor Ralph Northam today kicked off the Commonwealth's 19th annual Checkpoint Strikeforce enforcement and public education campaign to combat impaired driving and prevent alcohol-related injuries and fatalities on Virginia's roads. Modified to address safety and health concerns amid the COVID-19 pandemic, the period of increased enforcement will take place from August 26 through Labor Day weekend, and resume periodically around key holidays like Halloween, Thanksgiving, and New Year's Eve.
---
DUID for Prosecutors and Law Enforcement Trainings ONLINE
Please find below the registration links for the remaining three (3) DUID for Prosecutors and Law Enforcement trainings that will be offered this year. All three (3) programs will be offered via Zoom webinar. The original location is kept in the program name to differentiate between the trainings. Each program will begin at 8:30 a.m. and conclude at 3:30 p.m. Registration for each program will close at 5:00 p.m. the day before the training.
---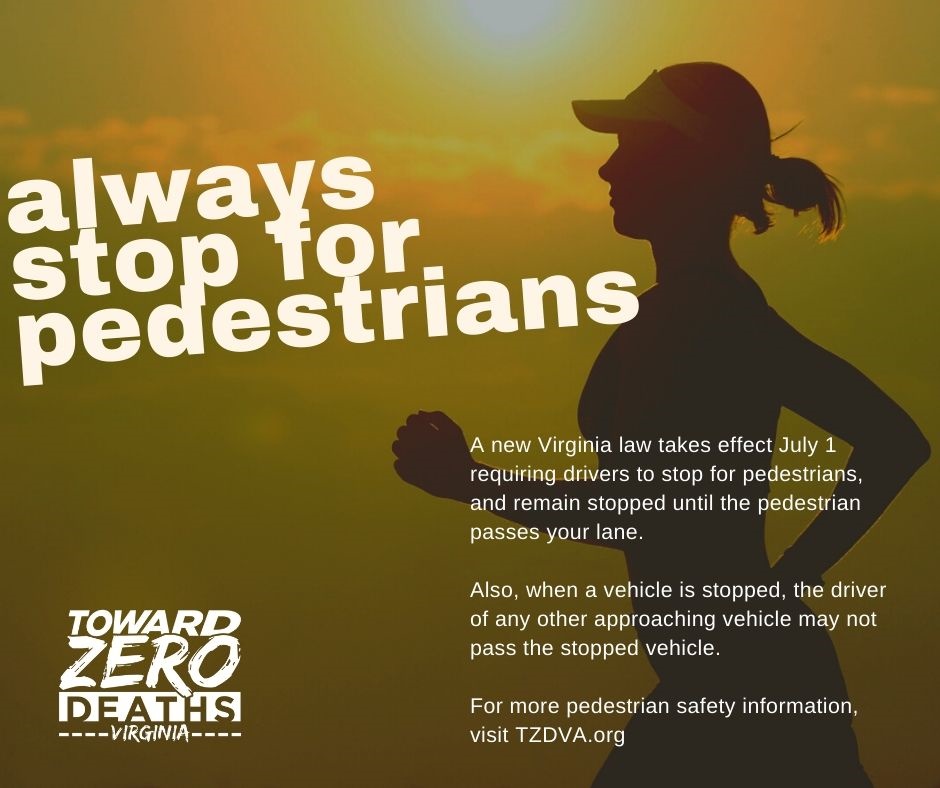 New Traffic Safety Laws Social Media Messaging
Virginians need education on two new laws taking effect July 1 that draw attention to our most vulnerable road users.
Attached are seven social media posts that focus on specific safety emphasis areas and details about the new laws. These are available for posting on your agency's Facebook, Twitter and Instagram.
Thank you for always being there, coming through, making the grade and having our backs. We could not do this without you!
---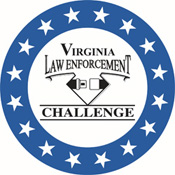 2020 Virginia Law Enforcement Challenge Canceled
VACP's traffic safety awards program to be revamped, relaunched in 2021
In light of the considerable amount of resources being devoted to handling the COVID-19 pandemic, the Virginia Highway Safety Committee has decided that the 2020 Virginia Law Enforcement Challenge traffic safety awards program should be canceled. The program will be revamped this year and is anticipatereturn in 2021.

Read the full announcement
UPDATE (8/28/20) — This awards program has been canceled for the foreseeable future as grant-funding is not currently available.
---
VSP Memo to Agencies on Community Policing Data Collection (HB1250)

The Community Policing Act requires that each time a local law-enforcement officer, sheriff, deputy sheriff or State Police officer stops a driver of a motor vehicle, the officer shall collect the following data, based on the officer's observation or information provided to the officer by the driver:
---
2021 Virginia Highway Safety Summit
Law enforcement officers and first responders like you are risking your health and safety each day when reporting to work. Virginia DMV staff wants to recognize and thank you for your daily sacrifice to keep us all safe. We wish we could have spent this week with you for the Virginia Highway Safety Summit, but as you know, the annual training conference was canceled this year. To help you plan ahead, next year's Virginia Highway Safety Summit is set for May 18, 19 and 20, 2021, at the Hilton Alexandria Mark Center at 5000 Seminary Road in Alexandria. We hope you will "save the dates" and join us for next year's summit!
---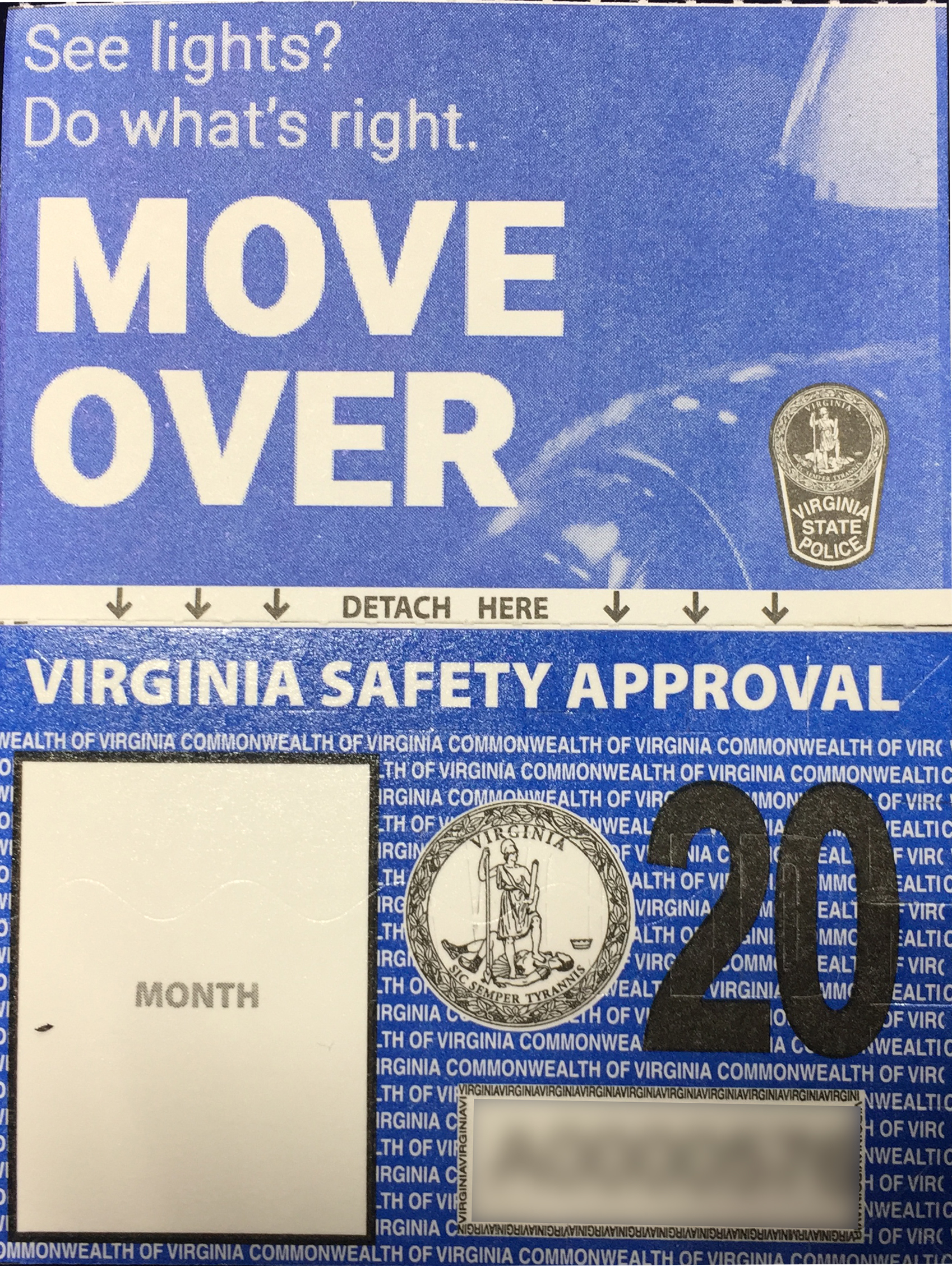 Virginia Vehicle Inspection Stickers Redesigned
New Safety Approval Sticker Promotes 'Move Over' Safety Message
RICHMOND – The Virginia State Police Safety Division is rolling out a newly-designed vehicle safety approval inspection sticker that now includes a traffic safety message. Effective Jan. 1, 2019, all certified Virginia inspection stations began issuing the sticker which has been reduced from 2.75 inches in height to 2 inches and from 4 inches in length to 3 inches. The year of expiration is now permanently affixed to the right side of the sticker, with the only insert being the month of expiration. Even though the overall size has been reduced, the month has been enlarged to provide better visibility.
"The change in size is in response to the feedback State Police received from Virginians following the sticker's relocation to the bottom left corner of the windshield in 2018," said Captain R.C. Maxey Jr., Virginia State Police Safety Division Commander. "We heard from a number of motorists who had difficulty seeing around the sticker, so we worked to reduce its size to slightly smaller than the average credit card." Read more
---
Governor Northam Urges Virginians to Take Action to Eliminate Roadway Injuries and Fatalities with 'Towards Zero Deaths' Campaign
DMV and VDOT launch new website to promote highway safety, reach goal of zero deaths on Virginia's roadways
Governor Ralph Northam today urged Virginians to help drive change in the commonwealth's traffic safety culture by joining the Toward Zero Deaths Virginia movement. Toward Zero Deaths (TZD) is a national strategy on highway safety that uses a unified approach to change driver behavior and improve highway safety with a goal of ultimately reducing the number of traffic-related serious injuries or deaths to zero.
To launch the TZD initiative in the commonwealth and mobilize Virginians to take action, the Virginia Department of Motor Vehicles and Virginia Department of Transportation, with help from safety partners, created a new website at TZDVA.org. Read more
| | |
| --- | --- |
| Upcoming Events/Trainings | Tweets by @SmartSafeSober |