---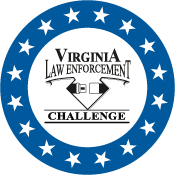 2019 Virginia Law Enforcement Challenge Applications Now Available!
Entries due Saturday, May 11 by 11:59 PM!
It's time to start gathering your traffic safety education information and enforcement data from 2018 and begin working on your 2019 entry for the Virginia Law Enforcement Challenge Awards for Excellence in Highway Safety!
The Virginia Assocation of Chiefs of Police encourages all law enforcement agencies – town, city, county, private, special, military, and campus – to enter! If you receive a grant from the Virginia Highway Safety Office to conduct high-visibility enforcement and education initiatives, then you are halfway there! The same data you collect for your grant activities is exactly what you need to apply for a Challenge award!
For more information about the program and to get the 2019 Application Materials, CLICK HERE.
---
Transportation Safety Awards Recognize Crash Reduction Efforts
Applications Due March 15, 2019
RICHMOND - The outstanding efforts made by individuals and organizations to change the behaviors of Virginia's motorists leading to crash, injury, and fatality reduction may be nominated for the 2019 Virginia Governor's Transportation Safety Awards. The Virginia Department of Motor Vehicles' Highway Safety Office is accepting nominations through March 15, 2019 for 13 different transportation safety categories.
Entries will be judged on creativity, imagination, uniqueness, the impact on the community, and the use of volunteers and private sector resources. Individuals, organizations, businesses or government agencies are eligible for these awards based on transportation safety activities and programs that took place during 2018. Read more
---
TRAINING ANNOUNCEMENT: Advanced Roadside Impaired Driving Enforcement (ARIDE)
April 13-14, 2019 • Virginia Beach
This 16-hour course is intended to bridge the gap between the Standardized Field Sobriety Testing (SFST) and Drug Recognition Expert (DRE) courses. You will learn how to observe, identify, and articulate the signs of impairment related to drugs, alcohol, or a combination of both. One of the more significant aspects of ARIDE is its review and required student demonstration of the SFST proficiency requirements. The ARIDE program also stresses the importance of securing the most appropriate biological sample in order to identify substances likely causing impairment.
WHEN: April 13-14, 2019
WHERE:
The Westin Virginia Beach Town Center
4535 Commerce St.
Virginia Beach, VA
(Rooms are available for anyone needing lodging.)
REQUIREMENTS:
This course is designed for police officers, prosecutors and toxicologist who have successfully completed a course using the IACP/NHTSA approved 24-hour SFST curriculum. Officers MUST demonstrate a proficiency in conducting Standardized Field Sobriety Testing to attend this course. If an officer cannot correctly demonstrate and articulate the tests, they will be asked to leave the program. NOTE: This training will not qualify an officer to serve as a drug recognition expert.
REGISTRATION:
Please complete the registration form at https://www.surveymonkey.com/r/ARIDEVB19.
There is no registration fee to attend. The program is provided through grant funds from the Virginia Highway Safety Office. This course is sponsored by AAA Tidewater Virginia. Course size is limited. Attendance is on a first-come, first- serve basis.
IT IS MANDATORY FOR YOU TO ATTEND THE FULL 16 HOUR CLASS. IF YOU MISS ANY TIME YOU WILL BE REMOVED FROM THE COURSE.
For more information, contact Jessica Lambertson at jessica.lambertson@dmv.virginia.gov.
---
Henrico Police to Conduct Pedestrian Traffic Crash Study and Awareness Campaign
The Henrico County Police Division recently conducted its annual review of pedestrian-involved crashes. Based on initial analysis of crash data from 2017 and 2018, three trends have emerged: pedestrians wearing dark and/or non-reflective clothing; pedestrians under the influence of alcohol and/or drugs; pedestrian failure to cross at controlled intersection. These trends are not representative of all pedestrian-involved crashes.
---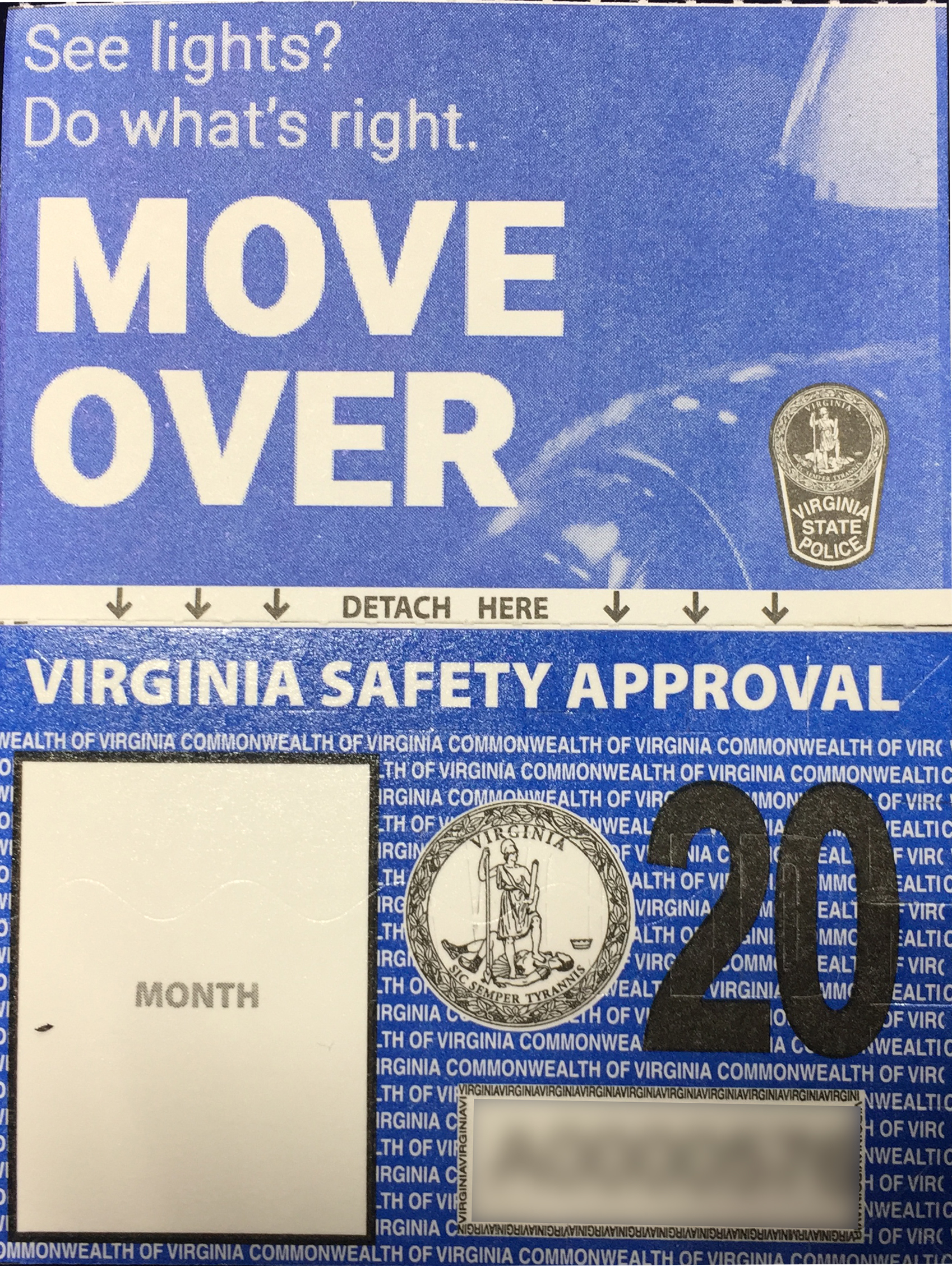 Virginia Vehicle Inspection Stickers Redesigned
New Safety Approval Sticker Promotes 'Move Over' Safety Message
RICHMOND – The Virginia State Police Safety Division is rolling out a newly-designed vehicle safety approval inspection sticker that now includes a traffic safety message. Effective Jan. 1, 2019, all certified Virginia inspection stations began issuing the sticker which has been reduced from 2.75 inches in height to 2 inches and from 4 inches in length to 3 inches. The year of expiration is now permanently affixed to the right side of the sticker, with the only insert being the month of expiration. Even though the overall size has been reduced, the month has been enlarged to provide better visibility.
"The change in size is in response to the feedback State Police received from Virginians following the sticker's relocation to the bottom left corner of the windshield in 2018," said Captain R.C. Maxey Jr., Virginia State Police Safety Division Commander. "We heard from a number of motorists who had difficulty seeing around the sticker, so we worked to reduce its size to slightly smaller than the average credit card." Read more
---
Virginia DMV Schedules 2019 Highway Safety Grant Workshops
Applicants Must Participate in One Session to Apply for Grant
RICHMOND - The Virginia Department of Motor Vehicles (DMV) has scheduled regional workshops to assist nonprofits, state agencies and law enforcement agencies with the 2020 highway safety grant application submission process.
Beginning February 1, 2019, DMV will accept applications for grants to support programs throughout Virginia that strive to reduce traffic deaths and injuries. The deadline for highway safety grant submissions is February 28, 2019. Read more
---
Governor Northam Announces Executive Directive Establishing Executive Leadership Team on Highway Safety
First of its kind initiative will kick off with #YourSayVA Digital Town Hall on distracted driving
RICHMOND (Dec. 3)—Governor Ralph Northam today issued Executive Directive Two which establishes an Executive Leadership Team on Highway Safety that is charged with reducing the rising number of fatalities on Virginia's roadways. The team is comprised of representatives from the Virginia Departments of Motor Vehicles, Transportation, Health, Education, and State Police, and is led by the Deputy Secretaries of Transportation and Public Safety and Homeland Security.
"Nearly every crash is preventable and it's important that we focus on altering the behaviors that threaten the safety of the citizens who use our roads every day," said Governor Northam. "The Executive Leadership Team will work proactively to drive a positive traffic safety culture in Virginia—I encourage all Virginians to get involved and offer input to help ensure we're tackling the highway safety issues that people across the Commonwealth are most concerned about."
As part of the Governor Executive Directive, Virginia Secretary of Transportation Shannon Valentine and Virginia Secretary of Public Safety and Homeland Security Brian Moran are inviting Virginians to take action against distraction on Virginia roadways by participating in the #YourSayVA Digital Town Hall on highway safety. To participate, visit the Commonwealth's new highway safety portal, TZDVA.org, and click the icon for the #YourSayVA Digital Town Hall to access the anonymous survey. Submissions will be accepted until December 31. Read more
---
2019 DUID Training Programs
The Commonwealth Attorneys' Services Council (CASC) will be conducting six DUID Training Programs across the Commonwealth in 2019. This training, for judges, prosecutors and law enforcement officers, focuses on the difficult cases involving driver impairment due to the use of illegal and/or prescription drugs. Topics to be covered include: Recognizing the Drugged Driver; Crashes; Blood Testing Issues; and much more. Additionally, the latest version of the Virginia DUI Manual will be distributed to all participants.

There is no charge for this single-day training program. Lunch and break refreshments will be provided at no charge. Virginia State Bar MCLE and In-Service Training Credits are pending.
The DUID Program will be presented at the following locations in 2019:
Newport News on April 18, 2019, at the Hampton Roads Criminal Justice Training Academy
Winchester on May 9, 2019, at the Frederick County Public Safety Building
Richmond on June 5, 2019, at the Virginia State Police Academy
Roanoke on June 27, 2019, at the DFS Western Laboratory
Nokesville on September 4, 2019, at the Prince William County Public Safety Training Center
Charlottesville on September 18, 2019, at the Albemarle County Police Department
Note: You must pre-register to attend.
Registration is conducted on-line at http://www.cas.state.va.us/trainingprograms.htm
Contact Ed Hibbard at whibbard@wm.edu or at 757-253-4994 if you have any questions.
---
Governor Northam Urges Virginians to Take Action to Eliminate Roadway Injuries and Fatalities with 'Towards Zero Deaths' Campaign
DMV and VDOT launch new website to promote highway safety, reach goal of zero deaths on Virginia's roadways
Governor Ralph Northam today urged Virginians to help drive change in the commonwealth's traffic safety culture by joining the Toward Zero Deaths Virginia movement. Toward Zero Deaths (TZD) is a national strategy on highway safety that uses a unified approach to change driver behavior and improve highway safety with a goal of ultimately reducing the number of traffic-related serious injuries or deaths to zero.
To launch the TZD initiative in the commonwealth and mobilize Virginians to take action, the Virginia Department of Motor Vehicles and Virginia Department of Transportation, with help from safety partners, created a new website at TZDVA.org. Read more
---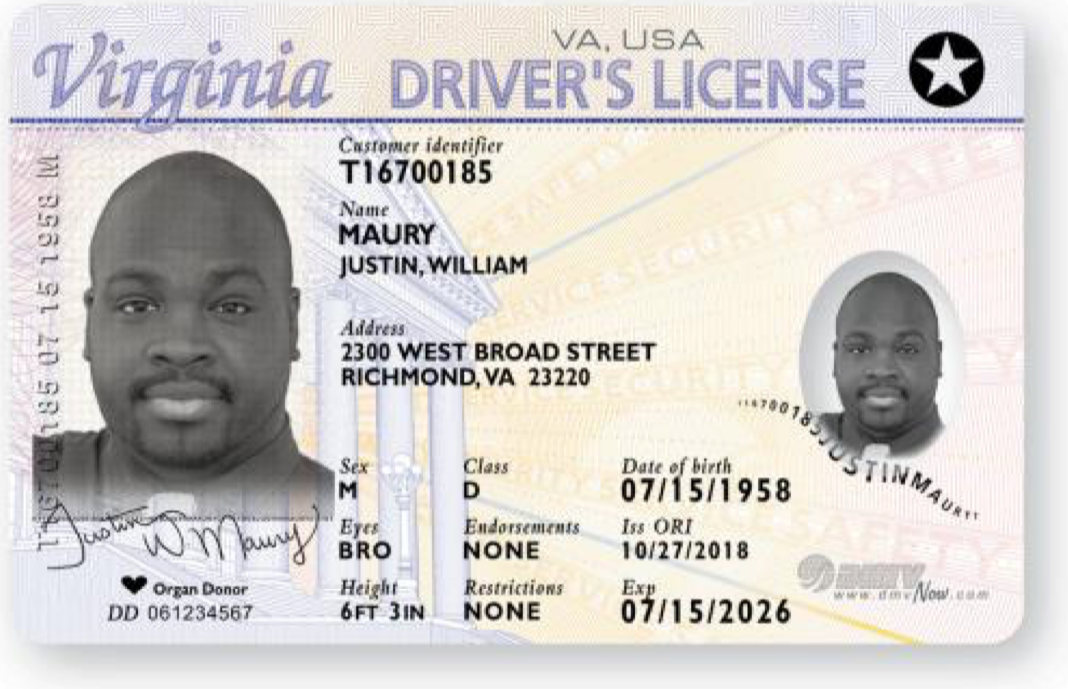 DMV Begins Issuing REAL ID Driver's Licenses and IDs
Interested Virginians have until October 2020 to Upgrade to Optional Card before Federal Air Travel ID Requirements Take Effect
RICHMOND – The Virginia Department of Motor Vehicles (DMV) begins issuing optional REAL ID compliant driver's licenses and identification cards today.
A REAL ID compliant credential can be used for all of the same purposes as your current driver's license – including driving, voting and accessing federal benefits – but, beginning October 1, 2020, also can be used as the federal identification which will then be necessary for boarding domestic flights and entering secure federal facilities and military bases. Read more
---
NEW RESOURCE PAGE: Suggested Strategies for Improving Campus Pedestrian Safety
Given the large amount of traffic running through and around Virginia's campuses, and the increased numbers of college students, faculty, and staff who are walking and bicycling for commuting, physical activity and recreation, pedestrian injuries remain a concern for campus law enforcement. This page provides resources to assist you in planning policies, educational and enforcement strategies.
---
| | |
| --- | --- |
| Upcoming Events/Trainings | Tweets by @SmartSafeSober |