---
Advanced DUI Online Program
The February 2021 Advanced DUI Online Program will be held Tuesday, February 2nd at 9:00 a.m. through Thursday, February 4th at 2:45 p.m. Topics to be covered during this intensive training include Investigative Stops, Checkpoints, Blood Testing Issues, and DUI Manslaughter.
This training is for prosecutors and law enforcement. You may REGISTER at https://www.ciclt.net/sn/events/e_signup.aspx?ClientCode=casc&E_ID=500411&RegType=ATT
---
Operation Crash Reduction Results — October 9-12, 2020
Thanks to all of you for your efforts to make Operation Crash Reduction a success. Our statewide Occupant Protection Coordinator, John Messina, has provided the data from TREDS in the chart below.
2019 (10/11–10/14)
2020 (10/09–10/12)
Crashes
Fatalities
Injuries
Crashes
Fatalities
Injuries
705
2
309
533
5
240

- 45%

- 85%

- 58%

- 24%

+ 150%

- 22%
This year's campaign reduced crashes by 24% from 2019. Since its inception in 2019 and over the past two Operation Crash Reduction Campaigns, our efforts have successfully reduced crashes in the Commonwealth.
Please provide information on any strategies, social media campaigns and other activities you initiated in support of Operation Crash Reduction to me in an email so that we can include it in our reporting efforts.
---
Traffic Enforcement During the COVID-19 Pandemic
While COVID-19 cases are steadily increasing within the U.S., law enforcement agencies continue to respond to incidents and enforce traffic laws in their communities, despite the operational challenges they may face on roadways due to the pandemic. Considerations to take when making traffic stops or conducting traffic safety initiatives is available from the IACP at https://www.theiacp.org/resources/document/traffic-enforcement-during-the-covid-19-pandemic
The recommendations were created in consultation with a small sample of police agencies from around the United States.
For specific considerations related to impaired driving during the COVID-19 pandemic, please see the tool, Processing DUIs during the COVID-19 Pandemic: Considerations for Law Enforcement.
---
Speed Awareness Tools
During these unprecedented times, it may seem that there are more cases of high rates of speed and unrestrained travelers on the road now than in the past, the observation is correct. From January 1, 2020 to September 10, 2020, data shows a 20% increase (226 to 272) in speed related fatalities and a 22% increase (190 to 232) in unrestrained fatalities compared to the same time in 2019.
Speeding endangers everyone on the road, excessive speeding is occurring in every community. Excessive speed injures or kills pedestrians, bicyclists, operators of motor vehicles, as well as passengers in motor vehicles. In 2019, speed related crashes killed 349 people on Virginia roadways and there were 274 unrestrained fatalities. Of course, the best way to protect yourself and others in your vehicle during a crash is wearing your seat belt.
However, it will take all of us together, government entities, law enforcement entities, faith-based groups, civic groups, educational groups as well as each individual member of our respective communities to slow the tide of the problem with excessive speed and non-seat belt use.Speed limit and seat belt laws are put in place to protect all road users within our, community.
To help prevent speed and seat belt related fatalities, to ensure that motorists are obeying the speed limit and are buckling up, we are asking partners and citizens to continue your efforts and help educate your local communities about the consequences of not obeying speed limits and not wearing a seat belt. We are providing the attached graphics that you can use on your social media outlets, websites, community billboards and other outlet to get the message of "Slow Down" and "Buckle Up" to our communities. In addition, there is quick reference toolkit attached to list our partners' information that can be used to educate our communities as well. This messaging may seem small but just one more message may be the message to save a life.
Thanks for your continued support of working Towards Zero on Virginia roadways.
---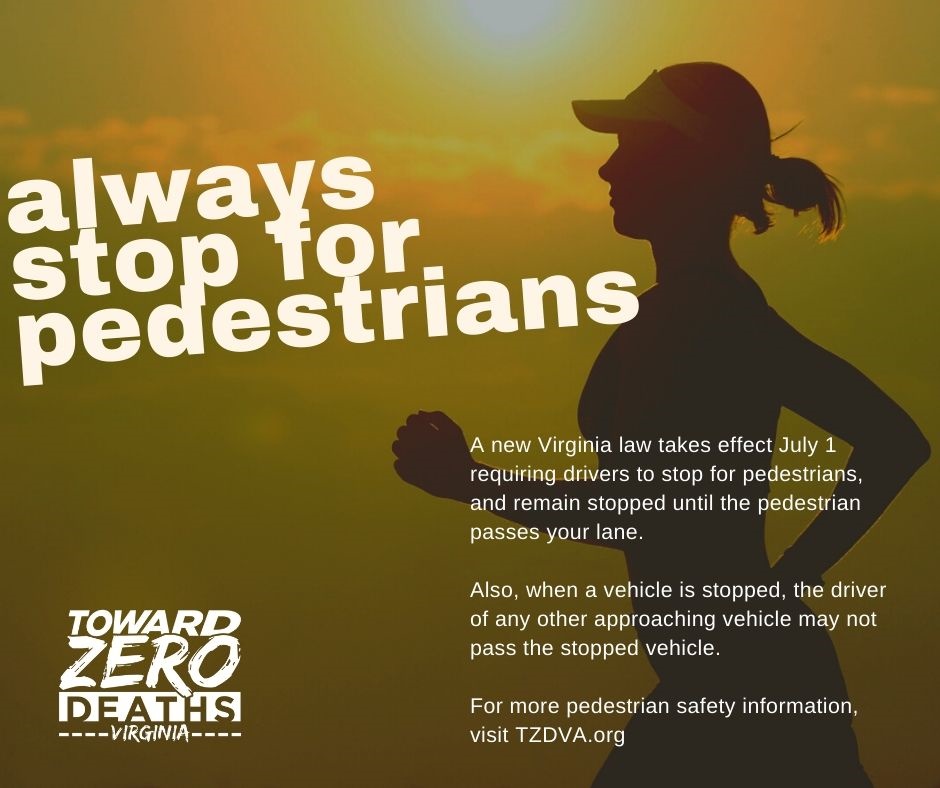 New Traffic Safety Laws Social Media Messaging
Virginians need education on two new laws taking effect July 1 that draw attention to our most vulnerable road users.
Attached are seven social media posts that focus on specific safety emphasis areas and details about the new laws. These are available for posting on your agency's Facebook, Twitter and Instagram.
Thank you for always being there, coming through, making the grade and having our backs. We could not do this without you!
---
VSP Memo to Agencies on Community Policing Data Collection (HB1250)

The Community Policing Act requires that each time a local law-enforcement officer, sheriff, deputy sheriff or State Police officer stops a driver of a motor vehicle, the officer shall collect the following data, based on the officer's observation or information provided to the officer by the driver:
---
2021 Virginia Highway Safety Summit
Law enforcement officers and first responders like you are risking your health and safety each day when reporting to work. Virginia DMV staff wants to recognize and thank you for your daily sacrifice to keep us all safe. We wish we could have spent this week with you for the Virginia Highway Safety Summit, but as you know, the annual training conference was canceled this year. To help you plan ahead, next year's Virginia Highway Safety Summit is set for May 18, 19 and 20, 2021, at the Hilton Alexandria Mark Center at 5000 Seminary Road in Alexandria. We hope you will "save the dates" and join us for next year's summit!
---
Governor Northam Urges Virginians to Take Action to Eliminate Roadway Injuries and Fatalities with 'Towards Zero Deaths' Campaign
DMV and VDOT launch new website to promote highway safety, reach goal of zero deaths on Virginia's roadways
Governor Ralph Northam today urged Virginians to help drive change in the commonwealth's traffic safety culture by joining the Toward Zero Deaths Virginia movement. Toward Zero Deaths (TZD) is a national strategy on highway safety that uses a unified approach to change driver behavior and improve highway safety with a goal of ultimately reducing the number of traffic-related serious injuries or deaths to zero.
To launch the TZD initiative in the commonwealth and mobilize Virginians to take action, the Virginia Department of Motor Vehicles and Virginia Department of Transportation, with help from safety partners, created a new website at TZDVA.org. Read more
| | |
| --- | --- |
| Upcoming Events/Trainings | Tweets by @SmartSafeSober |