---
Virginia 2019 Inspection Stickers to Be Relocated on Vehicle Windshield
RICHMOND – Effective Jan. 1, 2018, Virginia state inspection stickers will no longer be affixed to the bottom center of a vehicle's windshield. Due to new innovations in the automotive industry, the state inspection stickers will be placed in the bottom left corner of the windshield, when viewed from inside the vehicle. This change in location will also apply to the placement of any other authorized stickers. There have been no changes made to the size or appearance of the existing vehicle inspection sticker.
The relocation stems from the fact that automobile manufacturers now offer crash avoidance technology in many of their vehicles. In such vehicles, the new technology utilizes the center of the windshield. Therefore the placement of items in that area, including stickers, could prevent crash avoidance systems from operating properly. Read more
---
10 Die in Traffic Crashes on Virginia Highways Over Thanksgiving Weekend
2017 Proving to Be Deadlier than 2016 for Traffic Crashes
RICHMOND – With overall traffic fatalities already on the increase, the 2017 Thanksgiving holiday weekend proved to be a deadly one for 10 individuals traveling on Virginia's highways. During the holiday statistical counting period, which began Wednesday, Nov. 22, 2017, at 12:01 a.m. and continued through midnight Sunday, Nov. 26, 2017, traffic crashes claimed the lives of eight drivers, one passenger and a pedestrian. As of Monday, Nov. 27, 2017, there have been 737 reported traffic deaths in Virginia, compared to 664 this date last year. Read more
---
DMV Announces License Plate Design Contest for Virginia Students
The "Take Action Against Distraction" License Plate Design Contest Runs Through December 15
RICHMOND – The Virginia Department of Motor Vehicles (DMV) invites Virginia high school students to enter a new license plate design contest. The "Take Action Against Distraction" License Plate Design Contest begins November 1 and is open to all Virginia high school students (grades 9-12). Virginians will have the final say on the design concept chosen for a new license plate highlighting the issue of distracted driving. Read more
---
Virginia State Police Produce Opioid/Heroin Awareness Videos to Help Stem Abuse & Overdoses
Alleghany County Sheriff Provides Testimnial to Tragedy of Addiction
RICHMOND – From March through July of this year, medical emergency departments across the Commonwealth each month have fielded more than 700 visits by Virginia residents for treatment for unintentional opioid/heroin or unspecified substance overdoses. Of those 700 overdose visits, approximately 160 resulted from heroin usage in June and another 150 in July. In the first half of 2016, fatal drug overdoses across the state increased by 35 percent.* Read more
---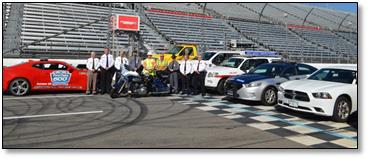 Virginia State Police Debut "Move Over" Video at Martinsville Speedway
MARTINSVILLE, Va. — The Virginia State Police debuted Tuesday (Oct. 24) a new safety video highlighting the "Move Over" law, which will be featured this weekend during the First Data 500 Monster Energy NASCAR Cup Series race at the Martinsville Speedway.
---
Virginia's Seat Belt Use Rate Reaches New High of 85.3 Percent
DMV, Police and Safety Partners Still Working for 100 Percent
RICHMOND – The Virginia Department of Motor Vehicles (DMV) announced today that Virginia's seat belt use rate has reached a record high of 85.3 percent. However, as 236 unbelted motorists have died in crashes this year in the Commonwealth, DMV, Virginia law enforcement and nonprofit partners continue their efforts toward 100 percent compliance.
"Virginia's seat belt use rate has averaged around 79 percent, so anytime we see that number go up, it's a great thing," said DMV Commissioner Richard D. Holcomb, the Governor's Highway Safety Representative. "But, as long as Virginians continue to lose their lives because they aren't wearing their seat belt, our work is not yet complete." Read more
---
Highway safety plan to end traffic fatalities
Every day, an average of two people die and more than 100 are injured in highway crashes in Virginia. Last year, more than 700 people died in fatal crashes. And from 2011 to 2015, there were more than 3,000 fatalities and nearly 46,000 serious crashes. These just aren't numbers; these are family members, friends and love ones.
To eliminate traffic fatalities and serious crashes, a number of agencies — including VDOT, DMV, and Virginia State Police — have come together to implement the "Arrive Alive" Virginia Strategic Highway Safety Plan. The plan lays out data-driven solutions to address highway safety issues and move the state toward zero deaths on the Commonwealth's roadways. Read more
---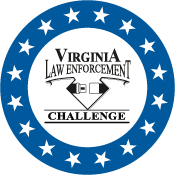 2017 Virginia Law Enforcement Challenge Awards Presented
Henrico County Division of Police recognized with "Commonwealth Award" for best overall traffic safety program in Virginia in 2016; Hanover County Sheriff's Office recognized with 2016 NSA Traffic Safety Unit Award
The Virginia Association of Chiefs of Police (VACP) is pleased to announce the recipients of the 2017 Virginia Law Enforcement Challenge awards for the best traffic safety programs in the state in 2016. The awards luncheon took place during the VACP's 92nd Annual Training Conference on Tuesday, September 19 in Virginia Beach, VA.
Celebrating its twenty-eighth year in Virginia, the Law Enforcement Challenge program promotes professionalism in traffic safety enforcement and encourages agencies to share best practices and programs with each other. The awards are based on entries prepared by the participating agencies that highlight their traffic safety education and enforcement activities in occupant protection, impaired driving and speed over the past calendar year. Judges award points to the agencies in the six areas that comprise a comprehensive traffic safety program: problem identification, policies, planning, training of officers, public information and education, enforcement, and an evaluation of the outcomes of the agency's efforts.
SEE THE WINNERS | PHOTOS OF THE WINNERS
---
Commonwealth Launches 16th-Annual Checkpoint Strikeforce Campaign
With Drunk Drivers Involved In One-Third of Labor Day Traffic Deaths, Virginia Governor and Officials Gear-up for Holiday Travel Safety

With a third of all U.S. traffic deaths over the Labor Day holiday period involving drunk drivers and Virginia averaging a double-digit number of traffic fatalities during the summer-ending holiday, Virginia Governor Terry McAuliffe today joined other state officials in outlining plans to ensure safety on the Commonwealth's roadways this weekend through the year's end.
At a Checkpoint Strikeforce news conference held this afternoon in Richmond, McAuliffe and Virginia State Police officials announced markedly stepped-up law enforcement throughout Virginia to counter Labor Day's historically deadly toll including the participation of nearly 200 local law enforcement agencies along with State Police area offices deploying literally hundreds of anti-drunk driving efforts under the banner of the 16th-annual traffic safety campaign. Read more
---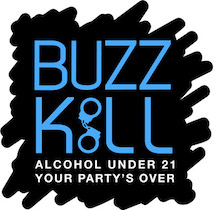 Check out the new "Party Safe VA" Facebook page for info on combatting underage drinking and DUIs in college communities
Campus law enforcement agencies across the Commonwealth want you to be aware of the consequences for underage drinking. If you are of legal drinking age, it may be tempting to provide alcohol to an underage student. Don't do it! You can be held liable for drinking-related injuries, jeopardizing your academic career and future employment.
---
Drive on: New Virginia law changes punishment for marijuana possession
On Saturday, several new laws will go into effect in Virginia. One will help more people keep their driver's license after being charged with marijuana possession. It will allow a judge to opt for additional community service instead of automatically suspending someone's driver's license for six months. HB 2051 / SB 1091 impacts adults who were not operating a vehicle at the time of the offense. Read more
---
Virginia Granted Extension to Continue Work Toward REAL ID Compliance Licenses and ID Cards Remain Valid for Federal Facility Access, Military Bases
RICHMOND – The U.S. Department of Homeland Security (DHS) has granted Virginia's request for additional time to continue work toward REAL ID compliance. As such, Virginians may continue to use their state-issued driver's licenses and identification cards to access secure federal facilities and military bases and to board domestic flights.
Virginia will become fully REAL ID compliant by October 2018 and will begin offering REAL ID approved driver's licenses and ID cards at that time. These credentials will be optional for Virginians to obtain. Beginning in October 2020, Americans will need to use a federally approved credential – such as the REAL ID credential Virginia is developing – in order to board domestic flights in the United States. Read more
| | |
| --- | --- |
| Upcoming Events/Trainings | Tweets by @SmartSafeSober |