News
June 18, 2013
"Operation Border to Border" Yields 1,855 Summonses & Arrests on Route 15 in Six States
684 Speeders & 260 Seat Belt Violators Cited; 28 DUI Arrests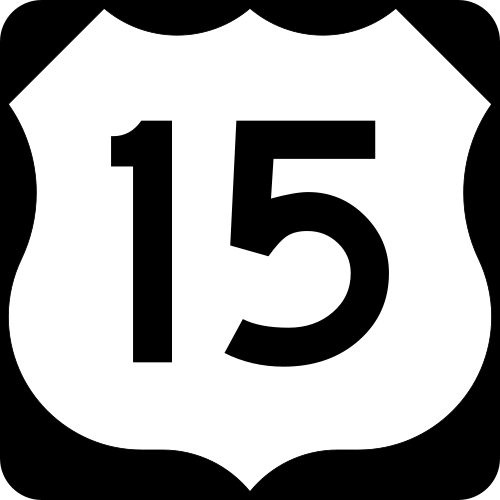 Six state police and highway patrol agencies spent Friday, June 7, 2013, through Sunday, June 9, 2013, enforcing Operation Border to Border along approximately 791 miles of U.S. Route 15 in an effort to prevent traffic crashes along the heavily-traveled corridor. This coordinated traffic safety enforcement initiative resulted in 1,855 total summonses and arrests among the six states. No traffic fatalities occurred during the three-day project.
State troopers from Maryland, New York, North Carolina, Pennsylvania, South Carolina and Virginia worked together conducting saturation patrols, sobriety checkpoints, commercial vehicle inspections and other enforcement initiatives to reduce traffic crashes and combat criminal behavior along this non-interstate highway. The north-south East Coast corridor is popular for passenger and commercial vehicles attempting to avoid congested interstates serving all six states, especially during the summer travel season.
Along the entire multi-state stretch of Route 15, troopers stopped 684 speeders and 14 reckless drivers. A total of 28 drunk drivers were taken off the road. Troopers cited 260 seat belt violations and 11 child restraint violations. The initiative also netted 25 felony and misdemeanor arrests, to include four drug arrests. Troopers also provided assistance to 56 motorists along the route.
"Despite the heavy rain and wind associated with the tropical storm that made its way up the East Coast during this operation, troopers in all six states still had an impressive and proactive impact on the overall safety of Route 15," said 1st Sgt. K.D. Blankenship, Area Commander of the Virginia State Police in Loudoun County. "Our goal was to send a clear message to motorists that complying with speed limits, buckling up, avoiding distractions and not driving impaired is just as critical on highways like U.S Route 15 as on the interstates."
In addition, 142 motor carrier inspections were conducted in Maryland, New York and Virginia. The inspections yielded 147 motor carrier violations with 28 commercial vehicles and drivers being placed out of service.
On Saturday in Loudoun County, Va., a motor carrier inspection led to the discovery of a tractor-trailer driver demonstrating the early symptoms of a diabetic seizure. The tractor-trailer was hauling steel and in violation of mandatory length restrictions for that section of Route 15. When the driver attempted to exit his vehicle, he fell to the ground and had to be transported to a nearby hospital for treatment. Further investigation revealed the same driver had been placed out of service in New York in August 2012 for the same medical condition. As a result of the encounter with him in Virginia on Saturday, the driver was placed out of service and cited for log book and over-length violations.
"Operation Border to Border" targeted 37.85 miles of Route 15 in Maryland; 12.71 miles in New York; 158 miles in North Carolina; 195 miles in Pennsylvania; 159 miles in South Carolina; and 230 miles in Virginia.