News
June 25, 2013
Governor's 2013 Transportation Safety Awards Announced
Retired DMV District Program Manager Steve Goodwin honored with Lifetime Achievement Award
RICHMOND – House Transportation Committee Chairman Joe May presented awards to the winners of the 2013 Governor's Transportation Safety Awards during a ceremony at the Capitol on Thursday, June 20, 2013. The following individuals and organizations were honored for their outstanding contributions to transportation safety:
Lifetime Safety Achievement – Steven D. Goodwin has been the face of transportation safety in southwest Virginia since the mid-1980s when he began working with the DMV Highway Safety Office in the Roanoke District. Thanks to his vision and passion, that region of the state is now working collaboratively to reduce motor vehicle crashes and fatalities. Goodwin was the driving force behind the Blue Ridge Regional Crash Investigation Team and the Blue Ridge Transportation Safety Board which bring multiple jurisdictions together to improve safety on our local highways. When teen fatalities spiked in 2000, he organized the community meetings that led to the formation of the Youth of Virginia Speak Out (YOVASO) Teen Safe Driving Program. His vision for YOVASO led to a statewide peer-to-peer program with close to 120 member schools in all regions of the state.
General Traffic Safety – During 2012, Spotsylvania County Sheriff's Deputy Troy Wheeler concentrated his efforts on highway and railroad safety. He obtained resources and funding from both the private sector and individuals to promote safety. He initiated and sponsored a bill with Senator Bryce Reeves to install signs on all school buses that read "WE STOP AT RXR." The bill was passed by the Virginia legislature in 2012. Deputy Wheeler is also one of the leading advocates of training and awareness against drunk driving.
Impaired Driving – In November 2012, the Arlington County Police Department, Arlington's Red Top Cab and the Northern Virginia-based nonprofit Washington Regional Alcohol Program (WRAP) unveiled a new, innovative and specially-outfitted motor vehicle called the "Chooser Cruiser" designed to deter impaired driving in Northern Virginia. The operable and tactical four-wheeled vehicle is a hybrid taxicab/police cruiser. The front of the Ford Crown Victoria is an Arlington County police car outfitted with real police lights and the rear of the vehicle is a yellow cab with the decaled message "choose your ride." The vehicle is designed to serve as a reminder during holiday seasons that every drunk-driving incident is 100 percent preventable and people have a choice in how they're transported at the end of an evening.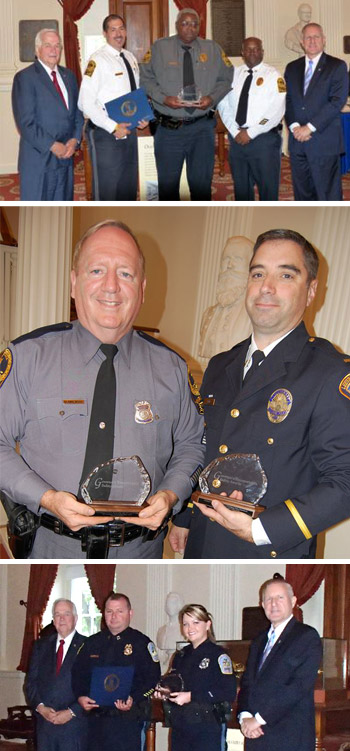 Law Enforcement – The mission of Virginia Commonwealth University (VCU) Police Department (top photo) is to provide a safe and secure learning, living and working environment for the students, faculty, and visitors of VCU. During 2012, the VCU Police Department participated in numerous traffic initiatives and programs to enhance public safety on campus. The department conducted red light initiatives, speed trailer setups, radar enforcement, bicyclist and pedestrian safety programs, and several license and registration check points. The VCU Police Department assisted the MCV Impact Committee in conducting a drinking and driving seminar at two local area high schools, partnered with other law enforcement agencies, and participated in the Mothers Against Drunk Driving walk event to raise funds and awareness for transportation safety.
Media – Joe Flanagan has been in the media industry since 1974 spending the last 25 years at WVEC TV-13 in Hampton Roads. Flanagan has always been a staunch supporter of the annual "Old, Used, Borrowed and Abused Child Safety Seat Round-Up." This annual event focuses on the importance of getting potentially unsafe child safety seats out of circulation. Each year, Flanagan speaks about the event on air and attends the final recycling event to show his support and report on how many seats have been collected.
Motor Carrier Safety – As a division of Drive Safe Hampton Roads, the Specialized Transportation Safety Committee (STSC) focuses on promoting safe movement practices and traffic safety within the motor carrier community through Driver Appreciation Days, the Southeast Motor Carrier Management and Safety Conference, public education and awareness, overweight dimensional permitting information, and general motor carrier safety. Partnering with the Virginia Beach Police Department, the STSC created the first annual Driver Appreciation Day in December where, instead of pulling trucks over and issuing citations, truck drivers in Virginia Beach pulled into an inspection area and were surprised to find free drinks, pastries and, most importantly, traffic safety educational materials.
Motorcycle Safety – Working with DMV's Virginia Rider Training Program, John Heavener developed a motorcycle safety presentation geared towards young people that could be used by anyone who volunteered to present the material. As part of this presentation, a basic set of motorcycle riding gear and fatal vision goggles were provided along with handouts for the students. He presented the information to Driver Education teaches and program managers from various high schools in Prince William County raising awareness for hundreds of students.
Occupant Protection – First Sergeant Alvin D. Blankenship, Virginia State Police's Area 10 Office, and Lieutenant Jeff Dube, Town of Leesburg Police Department (middle photo) , share the same concern in regards to local teen drivers and passengers failing to buckle up in the county. Together they led the official launch of Leesburg/Loudoun County's first-ever Seat Belt Safety Campaign called "The Put It Together (PIT) Challenge." An incentive-based program, with three fundamental elements, was established for the three schools that participated: Heritage, Loudoun and Tuscarora High Schools. Elements included pre and post surveys of seat belt usage by State Police and Leesburg Police personnel along with educational programs conducted within each school and the community by students from each school. More than 1,500 high school students from the three high schools ended up participating in the first PIT Challenge. Post-survey results indicated a 14 percent increase in the number of students wearing safety belts.
Pedestrian/Bicycle – The Pulaski Police Department (bottom photo) formed the Bike Patrol in 1995 in an effort to enhance community-oriented policing. This operation has been effective in familiarizing patrol officers with the citizens and businesses of the town. In May 2012, the Bike Patrol officers held a bicycle rodeo at the annual Community Health Fair. The local bicycle shop, Pulaski Bikes, partnered with the Bike Patrol and assisted with fitting helmets on participants, creating the bicycle course to ride, and teaching safety procedures to participants. Weather and staff permitting, officers ride year round. Bike patrols are very effective in dealing with crimes where police cars cannot go and for promoting transportation safety.
Public Transportation – Norfolk Checker Taxi is a taxi company in Hampton Roads that advocates safe driving practices. The company encourages the use of designated drivers, but when needed, provides a community service. The taxi company participates in Cab Alert with Hoffman Beverage. Cab Alert is a service providing a free safe ride home for patrons cannot safety drive after drinking. They also have Safe Ride Home Program accounts with U.S. Navy installations and ships.
Pupil Transportation – As the resource officer for Forest Middle School in Bedford County, Deputy Randy Smith works closely with classroom activities to ensure students learn about law enforcement and its responsibilities. Even though his middle school students cannot drive, he continues to work on new things to help students be prepared for the future. Smith was instrumental in bringing the "Youth of Virginia Speak Out" (YOVASO) program to school, which promotes safety while riding in a vehicle, wearing your seatbelt and being a good passenger
Youth Traffic Safety – Stuarts Draft High School's Students Against Drunk Driving (SADD)/ Youth of Virginia Speak Out (YOVASO) club is a high school extracurricular providing students with the best prevention tools possible to deal with underage drinking and other drug use, risky and impaired driving, and other destructive decisions while educating teams of high school students about traffic safety. Students have addressed safe driving behaviors from seat belt use to distracted driving and are now looking at ways to convince their peers to limit their speed, as they feel that speeding is the largest teen driving behavior problem in this area.
The Governor's Transportation Safety Awards are awarded by the Virginia Department of Motor Vehicles' Highway Safety Office to recognize the outstanding efforts made by individuals and organizations to change the behaviors of Virginia's motorists leading to crash, injury and fatality reduction. Nominations were accepted by DMV in March. Entries were judged on creativity, imagination, uniqueness, the impact on the community, and the use of volunteers and private sector resources. For more information, visit www.dmvNOW.com.