News
December 16, 2015
DMV Reminds Virginians to "Drive Sober or Get Pulled Over"
DMV Offices to Close for Christmas and New Year's Holidays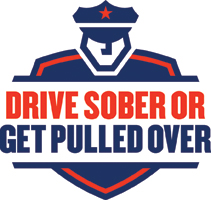 RICHMOND – All Virginia Department of Motor Vehicles (DMV) customer service centers will be closed Thursday, December 24 through Saturday, December 26 in observance of the Christmas holiday. DMV also will be closed Friday, January 1 and Saturday, January 2 for the New Year's holiday.
DMV customers can avoid service delays after the holiday closures – and perhaps save a few dollars – by taking advantage of more than 40 transactions available online at dmvNOW.com. For example, a customer can renew his vehicle registration online over the holiday weekend and avoid a last-minute trip to DMV on Monday and a $5 in-person fee.
DMV urges Virginians to "Drive Sober or Get Pulled Over" this holiday season – and every day. Law enforcement officers across the country – and Virginia – will be out in full force now through the New Year's weekend actively searching for drunk drivers as part of the semi-annual crackdown on impaired driving.
"Enjoy the holiday season responsibly. If you are planning to drink alcohol, make sure to arrange a safe ride home before you start drinking," said DMV Commissioner Richard D. Holcomb, the Governor's Highway Safety Representative. "Drunk driving crashes are 100 percent avoidable. We don't want Virginia's law enforcement officers to have to tell a single family this Christmas that their loved one will never come home again."
Eleven people died in Virginia crashes during the 2014 Christmas holiday period (December 21-25). Two of the deaths occurred in alcohol-related crashes.
Seven people died during the 2014 New Year holiday period (December 28-January 1). One of those deaths occurred in an alcohol-related crash.
In all of 2014, 251 people died in alcohol-related crashes in Virginia – that's 36 percent of all crash fatalities.
FOR IMMEDIATE RELEASE
Date: December 16, 2015
Contact: Brandy Brubaker
(804) 367-6834
brandy.brubaker@dmv.virginia.gov