News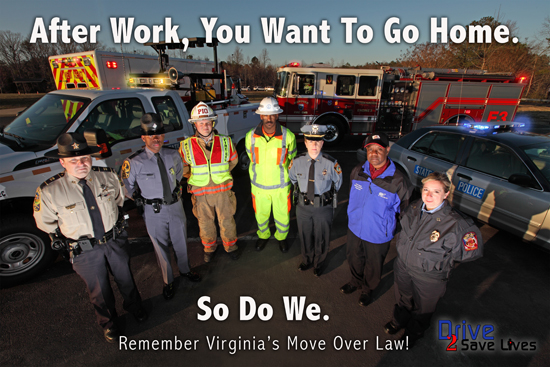 June 3, 2016
Public Service Announcement (PSA) Released on the Silver Screen to Spread the Word About Virginia's "Move Over" Law
June is "Move Over Awareness Month" in Virginia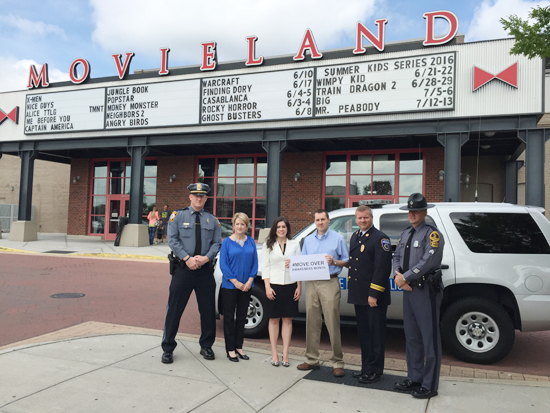 RICHMOND, Va. – What do summer movie blockbusters and Metro-Richmond emergency responders have in common? Beginning June 3, 2016, through the end of the month, they will be sharing the same silver screen in theatres across the region to help increase awareness of Virginia's "Move Over" law. The kickoff coincides with Governor McAuliffe's 2014 designation of June as Virginia's "Move Over Awareness Month."
The 30-second special public service announcement (PSA) features members of Hanover County Fire and EMS, Henrico County Police, New Kent County Sheriff's Office, New Kent County Fire and EMS, VDOT, Virginia State Police and AAA Mid-Atlantic reminding motorists to comply with the state's Move Over law. The PSA is running in the pre-show before each feature presentation during the entire month of June in the following theaters:
The Bow Tie Movieland at Boulevard Square (Richmond),
Carmike Ovation (Midlothian),
Regal Short Pump Stadium 14 (Henrico),
Regal Southpark Mall 16 (Colonial Heights), and
Regal Virginia Center Stadium 20 (Glen Allen)
Funding for the PSAs is provided through a grant administered by the Virginia Department of Motor Vehicles (DMV) Highway Safety Office and the National Highway Traffic Safety Administration.
"With roughly 101 new films coming out between now and Labor Day, we have the potential of reaching thousands of moviegoers with this critical life-saving message," said Colonel W. Steven Flaherty, Virginia State Police Superintendent. "All we ask is for drivers to move over a lane or safely pass those working alongside Virginia's highways. We're out there working for your safety and protection, we just simply ask for the same courtesy."
Virginia's Move Over law, established in 2002, requires drivers to either move over a lane or, when unable to, to cautiously pass all emergency personnel with blue and red flashing lights – law enforcement, firefighters, and rescue - stopped on the side of a road.
VA law was also recently (2010) expanded to include tow truck drivers and highway workers who display yellow or amber flashing lights. "As the largest tower in Virginia, AAA alone conducts close to 225,000 rescues each year that also require vehicle tows. Not only does slowing down and moving over give emergency personnel, towers, and highway workers more room, it also protects motorists who are stranded and not often in a safe spot of their choosing, but rather wherever their vehicle failed them," said Martha Mitchell Meade, Manager Public and Government Affairs for AAA Mid-Atlantic. "With distracted driving crashes on the rise and a major concern for all motorists, it makes more sense than ever to respect and protect anyone who is in danger by virtue of the fact that they are on the side of the roadway."
The PSA was produced by the Virginia State Police in partnership with the Virginia Department of Transportation (VDOT). Both English and Spanish versions of the PSA are available for download on VSP's YouTube page: https://www.youtube.com/watch?v=vzxbBouaBM0.
Every state in the nation has a "Move Over" law and violation of the law varies from state to state. Nationwide the National Law Enforcement Officers Memorial Fund (NLEOMF) reports 134 law enforcement personnel, between 2005 and 2014, were struck and killed by a vehicle while on-duty. As of June 2, 2016, the NLEOMF reports 14 law enforcement officers have been killed in traffic-related incidents this year.
# # #
Attached are two photos – one featuring the PSA and the other was taken this morning by Virginia State Police following the 10 a.m. press conference. Both are property of the Virginia State Police and allowed for rebroadcast/republication.
(L to r) Lt. Chris Eley, Henrico Co. Police; Ms. Martha Meade, AAA Mid-Atlantic; Ms. Lindsay Le Grand, VDOT; Trooper Jonathan Glasscock (Holding the sign), VA State Police; Chief Jason T. Williams, Hanover County Fire & Rescue; Sgt. Stephan Vick, VA State Police outside the Bow Tie Cinemas in Richmond this morning.
Corinne N. Geller
Public Relations Director
Virginia State Police
Web: www.vsp.virginia.gov