News
October 24, 2017
Virginia State Police Debut "Move Over" Video at Martinsville Speedway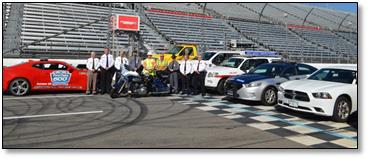 MARTINSVILLE, Va. — The Virginia State Police debuted Tuesday (Oct. 24) a new safety video highlighting the "Move Over" law, which will be featured this weekend during the First Data 500 Monster Energy NASCAR Cup Series race at the Martinsville Speedway.
"With the dramatic increase in overall traffic deaths (12%) this year in Virginia, it's important to remember we all have a role in safety on the roads," said Captain Richard Denney, Salem Division Commander. "Buckling up, putting down the cell phone and never driving while intoxicated should already be part of every driver's safety routine, and we hope moving over for emergency vehicles will become second nature as well."
Each day, first responders and highway safety workers across the Commonwealth take on the dangerous task of patrolling and maintaining our highways. Over the past decade (2007-2016), 127 law enforcement officers nationwide have been struck and killed by a vehicle while working along the roadside.*
"Our highway crews put their lives on the line in work zones every day while working to improve travel for motorists in Virginia," said Lisa Hughes, VDOT Residency Engineer, Martinsville. "They often have only a 12-pound cone separating them from traffic, so motorists who move over when approaching a work zone greatly impacts their safety on the job and their ability to go home to their families at the end of the day."
Virginia's "Move Over" law was enacted in 2002 in an effort to protect the men and women committed to safeguarding our highways. It requires drivers to change lanes or, when not able to safely do so, cautiously pass a stopped emergency vehicle, highway work truck or tow truck with flashing red, blue or amber lights.
Filmed in partnership with the Virginia State Police Association, Virginia Department of Transportation, Nationwide Insurance and the Ohio State Highway Patrol, this new video is the centerpiece of a renewed emphasis to heighten awareness of Virginia's #MoveOver campaign by State Police.
*National Law Enforcement Officers Memorial Fund
# # #
Corinne N. Geller
Public Relations Director
Virginia State Police
(Office) 804-674-2789
(Cell) 804-263-5547
Web: www.vsp.virginia.gov