News
November 21, 2017
DMV Urges Thanksgiving Motorists to Buckle Up as Click It or Ticket Begins
Offices Closed November 23-25; Customers Can Conduct Business Online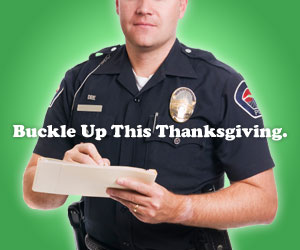 RICHMOND – November's Click It or Ticket campaign is underway, and the Virginia Department of Motor Vehicles (DMV) reminds motorists to always buckle up before hitting the road this Thanksgiving – and every day.
State and local police officers across Virginia will be on the lookout for unbelted motorists during Click It or Ticket, which runs from November 20-December 1. Click It or Ticket combines high visibility enforcement of seat belt and child safety seat laws with outreach and education.
According to the National Highway Traffic Safety Administration, seat belt users are 45 percent less likely to be fatally injured in a crash. In addition, statistics show that 79 percent of people ejected in a crash die; 30 percent of unbelted motorists are ejected during a crash.
"You may be the best driver in the world, but you can't guarantee the driver next to you is," said DMV Commissioner Richard D. Holcomb, the Governor's Highway Safety Representative. "Wearing a seat belt is the easiest and most effective thing you can do to stay safe while driving. And make sure everyone in your vehicle is properly secured, too."
Last year, eight people died in Virginia crashes during the five-day Thanksgiving holiday (Wednesday, November 23-Sunday, November 27, 2016). Three of the people who died were not wearing a seat belt.
In observance of the Thanksgiving holiday, all DMV customer service centers will be closed from Thursday, November 23 through Saturday, November 25. Offices will reopen for normally scheduled business hours on Monday, November 27.
DMV customers are encouraged to save time – and perhaps a few dollars – by taking advantage of more than 40 transactions available online at dmvNOW.com. For example, a customer can renew his vehicle registration online over the holiday weekend and avoid a last-minute trip to DMV on Monday and a $5 in-person fee.