Community Outreach Program for Law Enforcement
Stand-Alone Bumper Sticker Mail Piece
Overview:
Bumper Stickers have long been a way to express support for a group, cause or institution. Cluster Communication has developed an outreach program that utilizes an auto decal and its ability to drive awareness in a community about your campaigns and initiatives.
The front of the sticker is intended to broadcast your safety initiative. The back can carry any information pertinent to your local residence, including a personal message from the law enforcement leader and/or a list of upcoming events. (SAMPLE, right.) Send bumper stickers with the Click It or Ticket or Drive Sober or Get Pulled Over logos or a Distracted Driving campaign message.
The stickers are mailed as a stand-alone mail piece; this means the decal appears in the mailbox just as if you hand delivered it yourself. They are mailed to every residence in a "cluster". A cluster is generally a neighborhood made up of approximately 500 homes, (20-30+ clusters make up a zip code). Rich demographic data is available on each cluster to provide a high level of targeting capability.
Capitalize on this newly approved mailing format, and its ability to carry your message for many months after delivery.
Sizes:
Rectangle – 3.75 x 11.5
Peel off sticker can be integrated into this format. Messaging and coupon integration can be printed on the back.

Square – 6.25 x 6.25 — Most popular size for die cutting logos*
Your design on front and your message on the back
Colors:
Up to 4 colors on front; back is printed in black
Pricing for Non-profit and Commercial mailers (Full Service-design, print, mail):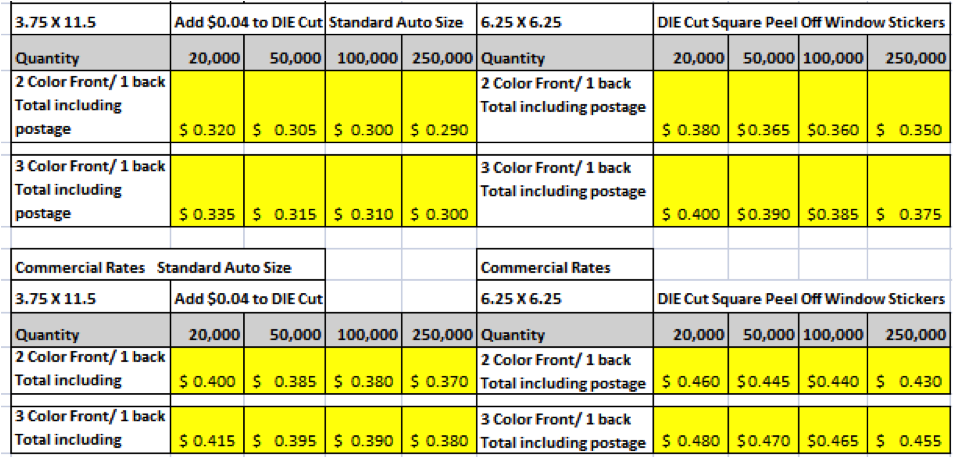 *Each additional color is $.02 each (@20K volume) * Color matching available @ $40 each

Dave Smith Cluster Communication
(571)374-3336
dave@clustercommunication.com
Jeffrey Gordon US Postal Service
(571)236-6582
Jeffrey.h.gordon@usps.gov